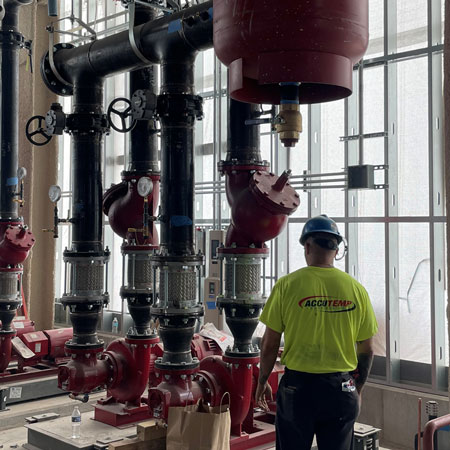 Accutemp Engineering devotes our experience and resources to the design and build of new construction HVAC systems for commercial and industrial buildings across Massachusetts, New Hampshire, Rhode Island, and Maine. Whether during the pre-construction or construction stages, we have the knowledge, training, and background necessary to properly size and implement a heating and cooling system to perfectly meet your expectations for years to come.
Construction and Pre-Construction Services
The quality, efficiency, and reliability of the commercial/industrial HVAC system directly affect expenses and your bottom line. With outdoor temperatures swinging from the low teens to the high eighties, the effectiveness of heating and cooling is vital to the success of your operations. At Accutemp Engineering, we understand it takes a customized solution, top-rated equipment, and meticulous workmanship to maximize value across Massachusetts, New Hampshire, Rhode Island, and Maine.
HVAC Services for New Construction
Access 45 years of proven history by contacting Accutemp Engineering at (617)926-1221. Our office staff and qualified technicians uphold unparalleled levels of performance and look for every opportunity to best fulfill your needs. We believe customer satisfaction is our most important asset and the reason behind our long-term relationships with our clients. Let us manage your project to strict standards of organization, turnaround, and budget.
For the design, build and installation of new construction HVAC systems, we follow a detailed process, including:
Design – Every aspect of the building is thoroughly considered to offer an effective solution based on layout, occupancy, function of the facility, architectural restrictions, budget, ease of operations and more.
Fabrication – Ductwork is designed and customized to maximize potential airflow and efficiency while minimizing waste and future concerns.
Installation – We take every precaution to adhere to a tight installation schedule and remain on budget, optimizing your available resources and providing greater value for your business.
Follow-up – Before the job is considered complete, we make sure you understand the operation and features of your new HVAC system and that everything is performing as it should.